WARNING: SPOILERS AHEAD
This article contains spoilers. Proceed at your own risk.
| | |
| --- | --- |
| | SOMETHING'S MISSING... |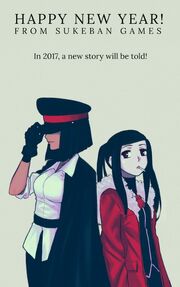 Tres Alicias is a reference to a possible sequel or a tie-in to another game not necessarily a sequel to VA-11 Hall-A, like how Read Only Memories is a game set in the same universe and with a ton of references, despite them being completely unrelated games. It might do something with N1RV Ann-A, the next Sukeban game.
After finishing the Anna Extra Night's Demo, you unlock 'START': a mini-story that takes place straight after the end of the main game. In it Jill and Anna have a conversation about various topics based on which dialogue options you chose. After selecting every option possible you are treated to a mini-logue at the end[2]; Anna (who is listed as the speaker in the dialogue file) talks about trust and truth what they are over a picture of herself in crutches (dubbed annacrutch_cg_obj in the same dialogue file) before the screen fades to black with See you at Tres Alicias... appearing in the left hand corner.
Hidden Files
Edit
VA-11 Hall-A
Edit
Some images were found in the game files of VA-11 Hall-A. They were mentioned by developers in note for Patch 1.2.1.3. Developers are pretending like there's no such thing.
One of images contains list of letters which can be deciphered through a reverse-additive cipher; they translate to "HEARDINTHEECHO", which is the name of a file in the app data folder for VA-11 HALL-A. This file, in turn, contains more letters that translate into the following (with slight modifications as a result of possible errors):
"CANYOUHEARHER
CANYOUHEARHERSTEPS
CANYOUHEARYOURFEARSBOILING
CANYOUFEELYOURREGRETSSURFACING
YOURSCARSAREOPENING
YOURSORROWSARESCREAMING
SHELLMAKEYOUBURNINYOURSINS
SHELLMAKEYOUDROWNINYOURTEARS
MASKCHANCOMES"
VA-11 Hall-A KIDS!
Edit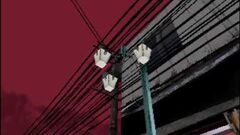 Inside
VA-11 Hall-A KIDS!
' installation folder an encrypted zip file named
anna has the key.zip
was discovered. When decrypted using a password constructed from hints in the game, it contained a single video file,
up in smoke.mp4
.
References
Edit
Community content is available under
CC-BY-SA
unless otherwise noted.